Back to School with the Roundup
News from August 2023
We're reaching the end of the summer, so let's look back on everything that happened this past month before we head back to school this September.
Monthly Announcements
We're Hiring!
Reclaim Hosting is hiring! We are seeking a full-time Customer Support Specialist to join our growing team. As a member of our Support Team, you'll play a vital role in maintaining high levels of customer satisfaction through exceptional support, efficient issue resolution, and continuous improvement of our services in a highly collaborative environment. Read more and apply on our Careers Page!
October Workshop - DoOO & WPMS 101
It's time for a Reclaim Hosting double feature! On October 10th & 11th from 12pm to 5pm ET, we'll be hosting a two-day Domain of One's Own and WordPress Multisite 101 virtual workshop, bringing together a group of administrators from various schools for training and discussion around these two platforms. This remote workshop will provide both applied training and concrete examples of both administering and teaching with Domain of One's Own and WordPress Multisite, along with one-on-one time with Reclaim Hosting, as well as other present institutions.
The workshop is broken up into two distinct days. Day 1 will be dedicated to getting you comfortable administering and troubleshooting Domain of One's Own, and Day 2 will focus on WordPress Multisite. You can sign up for either or both days, whatever piques your interest! For more information on what each day will consist of, you can check out our good ol' reliable events calendar, and if you're already raring to go, you can register right over here.
September Community Chat - Fast, Cheap and Enterprise: Scaling WordPress
There's nothing like a good Community Chat, and we've got another one coming your way. On Wednesday, September 13th from 12-1pm ET, we're meeting to explore how to scale WordPress instances that require enterprise-level hosting. Once WordPress outgrows Shared Hosting the alternatives can quickly get pricey. This discussion will focus on how to scale WordPress once it becomes mission critical for your community. What's more, we'll also be providing a sneak peek of ReclaimPress, which is our forthcoming container-driven, cloud-based WordPress platform. To find out more, stop on by the events calendar! And to register for an invite, you can sign up for our super-cool Community Chat guest list.
August Community Chat - Reclaiming Social Networks
And listen – if you're busy? We totally get it. That's why we recorded the August Community Chat, for all the busy bees who weren't able to come. Last month we talked about reclaiming social networks with special guest Bonnie Russell from Michigan State University's MESH Lab. Bonnie told us about how the MESH Lab's Humanities Commons is exploring ActivityPub as an independent academic social-network alternative, and together we thought through what the future of social media might look like. It was a great time, but if you weren't able to make it, here's the recording (and here's a playlist of past Community Chats as well):
News from Infrastructure - WHMCS Security Patches
In recent months Reclaim has been working to push out security patches to WHMCS and its templates. While these patches should not have impacted the function of your WHMCS install, there may be outliers so please alert us if things are not functioning as they should, if template embeds aren't showing properly, or if there is any unauthorized use.
News from Infrastructure - Rolling Out Wazuh
One of our major goals at Reclaim Hosting is State-RAMP compliance. Part of this is deploying a new Security Incident and Event Management system called Wazuh that provides auditing & accountability, vulnerability detection, security information management and more for the servers we manage. We are using Wazuh to guarantee full compliance with the security & privacy controls specified by State-RAMP (the NIST SP 800-53 controls, for anyone who's curious and wants to look up the specifics) and to allow us to better protect your servers and data. If you have any questions, please send a ticket into Support and we would be happy to explain more!
News from Infrastructure - Scalar Installer Under Maintenance
Reclaim's had some recent reports from admins about various issues they're experiencing with the cPanel Scalar installer. While we've been assured that the Scalar developer team and Installatron are working together to address the problem, we don't have a timeline for a full patch confirmed yet. When we're able to confirm full functionality, we'll let you know. In the meantime, if you'd prefer to make Scalar unavailable to users until it's fixed, you can follow the instructions in our guide here: Customizing Applications in Installatron. Reclaim's ability to troubleshoot at the application level is limited in this case, so we encourage you to reach out to the Scalar team with any issues that come up.
News from EdTech - Back to School!
It's autumn, and you know what that means – back to school! In that spirit, we wanted to include a brief back-to-school list of resources admins have available to them, including the following:
In Case Ya Missed It
Not only did we have a cornucopia of resources as a result of Reclaim Open, but we also capped off the process with a documentary made up of interviews with community members reflecting on their relationship with the past, present, and future of the open web.
In what will hopefully become a regular weekly stream, Taylor and Jim provide a sneak peek of Reclaim's latest product ReclaimPress.
In yet another stream, Jim and Taylor discuss the Site Archiving Toolkit used to flatten and archive the venerable UMW Blogs.
Recent Blog Posts
What is it, again, they say about Jim Groom? Oh yeah, that's right, it's something like "NOBODY BLOGS LIKE THE BAVA!"
While on vacation, Jim discovered an extensive malware infection on the mighty ds106, which led to some reflections on the clean-up process in the follow-up post: "More Notes on ds106 Clean-Up."
For those interested in offloading media for a larger WordPress instance to S3, the "Notes on WP Offload Media" may be right up your alley.
Have you had your fill of AI hot takes yet? Well, if so, then maybe this ambivalent post on the "Rise of the Machines" might help reassure you that not everyone welcomes our new thought leader robots.
And when AI seeks revenge for the smallest of slights, that's when the "Mail Suppression" begins.
Thanks to Charles Fulton of Lafayette College, Reclaim has been testing out the MU Migration plugin to import and export both standalone and WPMS subsites. And as Jim reports, we are getting very "Good Vibrations for MU Migrations." (If you want a song that'll get stuck in your head, Good Vibrations is a great pick – finish out the newsletter listening to it.)
In fact, the theme of WordPress looms large in the blog section this month, and that is definitely part of "Preparing for ReclaimPress," which will be talked about in more depth during September's Community Chat.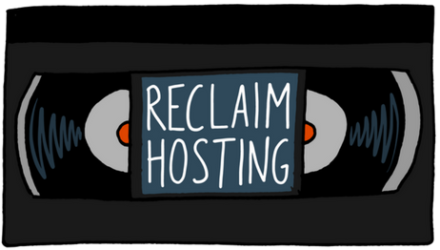 And in his post "9 WordPress Themes from 2007 that Still Work" Jim shows off themes that are still up and running, making it easy for their blogs to be perfectly preserved. Broken themes have been a big bear during Reclaim's recent WordPress archival projects, so we appreciate the ones still hanging on.
New Support Documentation
As we head back into a new year of school, we're doing a little autumn cleaning. Specifically, we've been updating our existing documentation so the knowledge base never falls behind!
Gordon polished up our guide on "Purchasing an Additional Domain". If you've got any users working in cPanel who want a custom top-level domain, send 'em right here to make their dreams come true.
Meanwhile, Taylor took a look at "Installing SSL Certificates on Reclaim Cloud using the Let's Encrypt Add-on", which talks you through – well, how to install an SSL certificate on Reclaim Cloud using the Let's Encrypt add-on! If you're doing any work in the Cloud, this is an essential skill to have.
Staff Picks
Call it saving the best for last or greatest for latest – either way, it's time for staff picks!
Tim's got so many recommendations that he's been compiling them on his blog. Check out "Link List 8/9/23" for an essay about the history and spread of WiFi (especially Free Public Wifi), a short video essay on how the phenomenon of Pac-Man won the 1980s, an article on blocking OpenAI's GPTBot crawler from training ChatGPT on your sites, and more.
Pilot's taking this August as a chance to shout out some blog posts from our Discord community. From Ed Beck, "Creating a Community Archive for Domain of One's Own" talks about Ed's work to create an archive for sharing SUNY's DoOO projects (building on Taylor's Community Site template from Reclaim's very first Community Chat ever!).
And here's another community blog post rec from Pilot – "The Prongs of Engagement" by Shannon Hauser. This post is based on her Reclaim Open presentation with Cartland Berge. It breaks down the strategies used at the Digital Knowledge Center to engage both DKC student workers and regular students off the street, and help them to build digital fluencies in non-traditional ways.
Thanks for joining us this summer – we can't wait to launch into fall with you.